How To Choose (And Use) The Right Cleanser 
A face cleanser is your essential first skincare step.
3 MINUTE READ
Perfecting your skincare routine is all about using the right products the right way. Sounds simple? It can be once you home in on the products that work best for your skin. 
The bedrock of your high-impact men's skincare routine is, you guessed it: cleanser. A face cleanser is your essential first skincare step in the AM and PM. Crappy cleansers can strip your face dry, leave pore-clogging buildup behind, and mess with your skin's ever-so-touchy pH balance. The right skin cleanser takes the guesswork out of the critical skincare step––a good product does the work for you, so you don't have to think about it. Your skincare routine should be a stress-free zone, which is why choosing good products is key to getting results with minimal effort. 
The great thing about premium cleansers is that some work for multiple skin types, so picking one doesn't need to be a headache. That said, there are some key differentiators to keep in mind when choosing your face wash because babying your face is a good thing. Taking care of your skin keeps it healthy and feeling great. Plus, good skincare keeps your skin looking clear and youthful. Keep reading to learn how to choose and use your face wash for glowing results that last.
Know the purpose of a face cleanser.
A good face cleanser for men removes dirt, grime, and excess oil from your skin while helping to clear out clogged pores. Regular, everyday body bar soap is too harsh and drying for facial skin. It's critical to cleanse every day, morning and night, with a formula made for your unique skin profile.
Look for a face wash formula that excludes potentially harmful ingredients and cleanses gently and effectively. You want a mild yet potent formula that leaves your skin feeling clean and hydrated––not tight, dry, oily, or greasy. 
We created our Charcoal Cleanser to strike a perfect balance for deep cleansing that's still gentle on your skin. Our skin-detoxifying charcoal cleanser works well on all skin types and cleans out all the gunk while leaving your face feeling soft and smooth. 
Check the product label for harmful ingredients.
A face wash that's hypoallergenic and non-comedogenic is best. These fancy words simply mean that the product is gentle and won't clog your pores. Face cleanser no-nos include: 
Parabens

Phthalates

Denatured alcohol

Sodium lauryl sulfate
Parabens can irritate some people's skin, and both denatured alcohol and sodium lauryl sulfate strip the skin's natural, protective oils, so it's best to avoid these. Also, some brands use phthalates as a solvent in personal care products, and there's concern that they may increase cancer risk (yikes), so better safe than sorry.
Perfect your cleansing routine (it's so easy).
The good news is, it's easy to wash your face correctly, but you will need to commit to a twice-daily routine to get the best skincare results. If that seems daunting, don't worry––it only takes seconds to cleanse your skin, and it feels really good. Here's a quick cleansing how-to:
Wet your face with lukewarm water and dispense the cleanser onto clean fingertips.

Gently massage the face wash all over your face and rinse well with water. You can also wash your neck with a face cleanser.

Pat your skin dry with a soft, clean towel and repeat morning and night. 
And voila! That's all it takes to start seeing improvements in your skin. Plus, a good face wash feels super refreshing, so win-win. Once you get in the swing of your new cleansing routine, you'll look forward to how great it feels to take better care of your skin. 
Clean Machine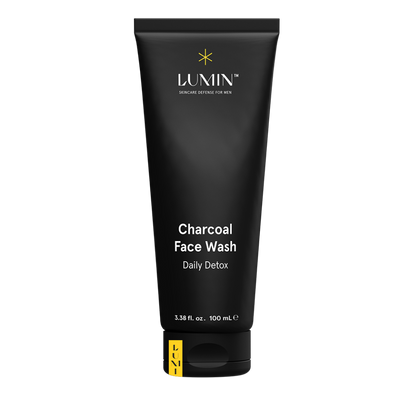 There's nothing like that 'aaahh' feeling when you've splashed cool water over a fresh, clean face. Our Charcoal Face Wash Daily Detox is made specifically for men's skin, working to remove 
grime while keeping your skin's pH balanced. Go ahead and say it, aaahhhh.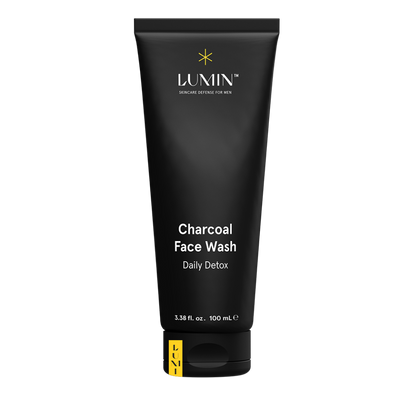 Yup, you can try our skincare for free.
Pesky dark circles bumming you out? Complicated skin care routines have you overwhelmed? Take our quick skincare quiz and we'll send you a free, personalized men's skincare kit.
START SKINCARE QUIZ